Organizational agility is a whole new approach to carrying out work in a way that makes sense for a constantly changing environment. 
Leaders can use a range of tools to navigate their agility journey. Select a category below to access the agility tools. The final category, "Complete Tool Library," is a consolidation of all tools in one place. 
Organizations can use this evidence-based framework to enhance their capacity to sense and respond in a timely and effective manner to a changing and uncertain environment. The Government Leader's Field Guide to Organizational Agility and accompanying tools provide hands-on resources for applying the framework while maneuvering the organization through new, often complex, challenges.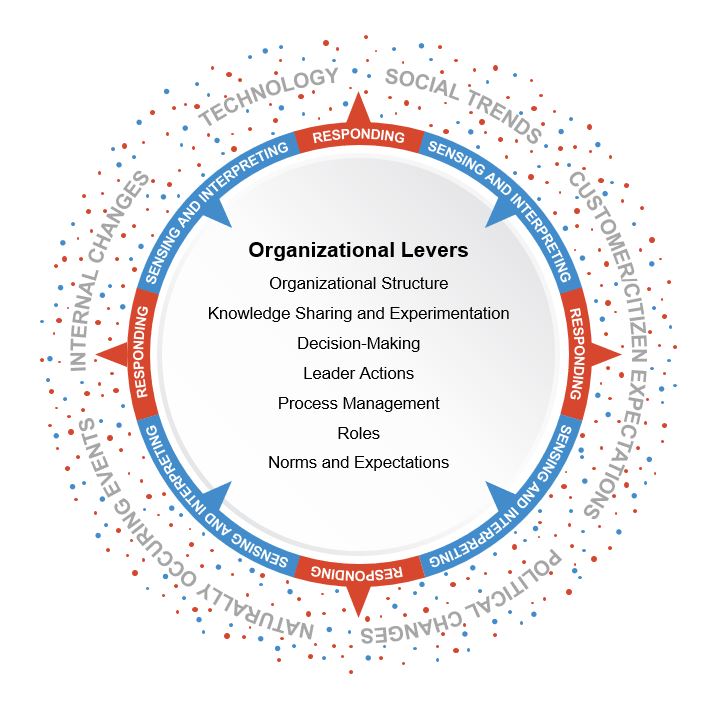 SERVICES
We can apply this framework through a variety of services, as described here. 
WORKSHOP PLANNING AND FACILITATION
We will help you select and tailor the use of our tools to achieve a specific outcome for your organization.
SPEAKING ENGAGEMENTS
Invite our team to speak to yours about using organizational agility principles to transform your workplace.
INDIVIDUAL OR TEAM TRAINING
Learn to use select tools and develop individualized strategies to implement those tools as part of an organizational transformation. These sessions can accomodate up to 10 trainees.
AGILITY ASSESSMENT
Our team will observe and assess the use of agility principles within your organization & provide feedback for improvement.
MARS SERIOUS GAME
The MARS game is a method to help people understand the concepts of organizational agility in a risk free, simulated environment. The game is facilitated by our team and takes about half a day to play and debrief. 
COACHING
Our team is available to conduct individual or small group coaching sessions to help organization leaders better understand organizational agility, tool use and implementation, and techniques to facilitate change successfully.
Contact the Authors
Use the contact information below to invite the authors to speak to or consult with your organization.
Dr. Shelley Kirkpatrick
skirkpatrick@mitre.org 
703-983-0817
Sarah C. Miller
scmiller@mitre.org
703-983-0855
PURCHASE THE BOOK
The Government Leader's Field Guide to Organizational Agility is published by Berrett-Koehler Publishers, Inc.
Individual books can be purchased at most book stores or online at the Berrett-Koehler website.
Special discounts are available on quantity purchases. For details contact Berrett-Koehler at 510-817-2277.
The fresh and insightful analysis presented in this book is a gift to all leaders seeking to help their organizations become more agile. Beyond that, it provides a bonus — plentiful and easy-to-apply tools for assessing and developing each piece of the organizational work.
~Ellen Van Velsor, PhD, Senior Fellow Emerita, Center for Creative Leadership
A must-read for anyone in government seeking to successfully lead in a rapidly changing world. Miller and Kirkpatrick have assembled an easy-to-read guide chock-full of useful examples illustrating how to lead with agility and drive the kind of impact all leaders seek.
~ David Brown, CEO, Learning Tree International
The Government Leader's Field Guide to Organizational Agility provides practical advice, tips, and more than a dozen tools to help government leaders embed agility into their organizations. Adopting a very human-centered approach to create and maintain psychological safety, government leaders are equipped to continually sense, interpret, and respond to the external and internal factors that are likely to have an impact on the organization's ability to carry out the mission.
~ James D. Stockmal, Past President, Association for Strategic Planning
Having just left the federal government after 13 years, this book really resonated with me. It helped me frame many of the challenges my teams faced over the years. It's a great resource and tool.  In my current role, I am using the book as a member of an agile team to re-frame my work habits.
~ Ellen C.
As a team leader, this timely, evidence-based guide helps me navigate through the constant 'swirl' to enhance agility. The book continues to provide me and my team with practical, immediately-applicable tools geared to any experience level.  The myths in each chapter yield further insight. My team and I find comfort and confidence in creating sensing routines to help balance our stability and flexibility.
~ Betsy C.
What separates The Government Leader's Field Guide to Organizational Agility from other books is its recognition that organizational agility requires leaders to rethink how they interact with and appreciate humans when striving for agility. Most books in this genre focus purely on frameworks, methods, and tools that leaders should apply, but they don't often address critical human-centered aspects like psychological safety. In a digitally overloaded world, it's refreshing to see this book step back and help government leaders see the importance of humans in org agility.
~ Ramsey H.
THANK YOU TO ALL WHO MADE THE TOOLS AND WEBSITE POSSIBLE: ADAM TERRAGNOLI, CARLA MCKINNEY, CHUCK LARGE, & CAIT SMITH!
OTHER HELPFUL TOPICS AND SITES
MITRE's Social Justice Platform provides actionable resources that empower leaders to address disparities. With data, tools, and frameworks, the Social Justice Platform advances outcome-driven solutions that address social, economic, and health inequities.
The Innovation Toolkit (ITK) is a publicly available, handpicked collection of proven approaches and methods to help your team be more innovative. Derived from human-centered design practices, the toolkit helps teams think creatively, frame problems, build consensus, and ask the right questions. Use ITK to spark insightful conversations, capture meaningful results, and guide creative problem solving.